This Sweet BBQ Pulled Jackfruit is so moist and tasty and crazy similar to the real deal, even the fiercest of meat lovers will be all over it!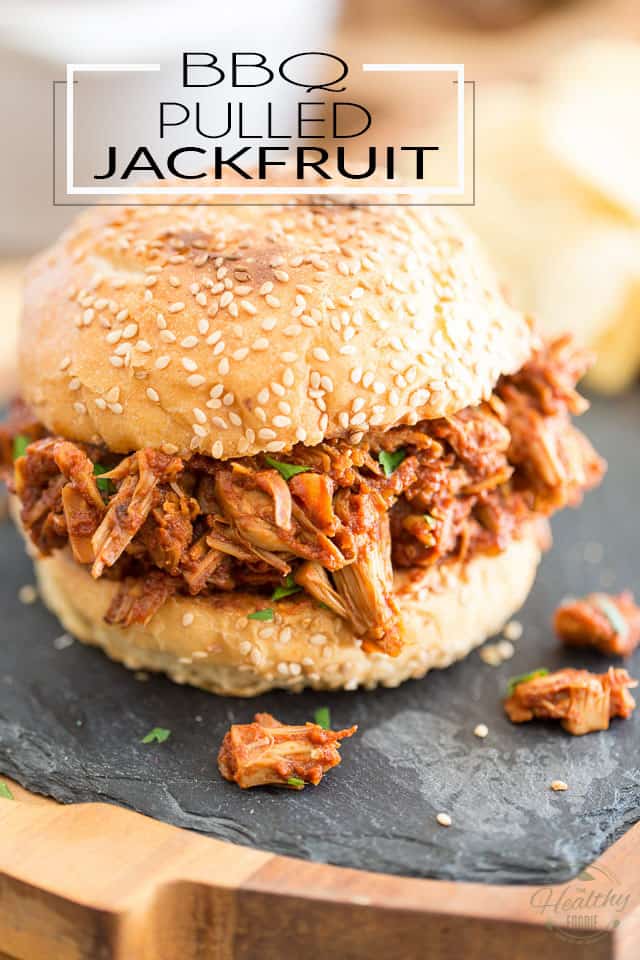 Jackfruit has got to be the coolest, awesomest new discovery that I've made since going vegan. The first time I had it — it was in a vegan restaurant — I got seriously freaked out at some point when I inspected my sandwich and thought for sure that there was meat in it. How could that be? It was a vegan place after all!? I had to look it up on the Internet to convince myself that it indeed was not meat and that it was safe for me to resume eating.
I mean, this stuff is so crazy similar in looks, texture and flavor to pulled meat, it IS almost scary. I think you need to experience it for yourself to truly believe it.
IF you've never tried it, that is. But if you have, then you know exactly what I'm talking about, and I don't think I need to sell this recipe to you. You know just how crazy good this is going to be…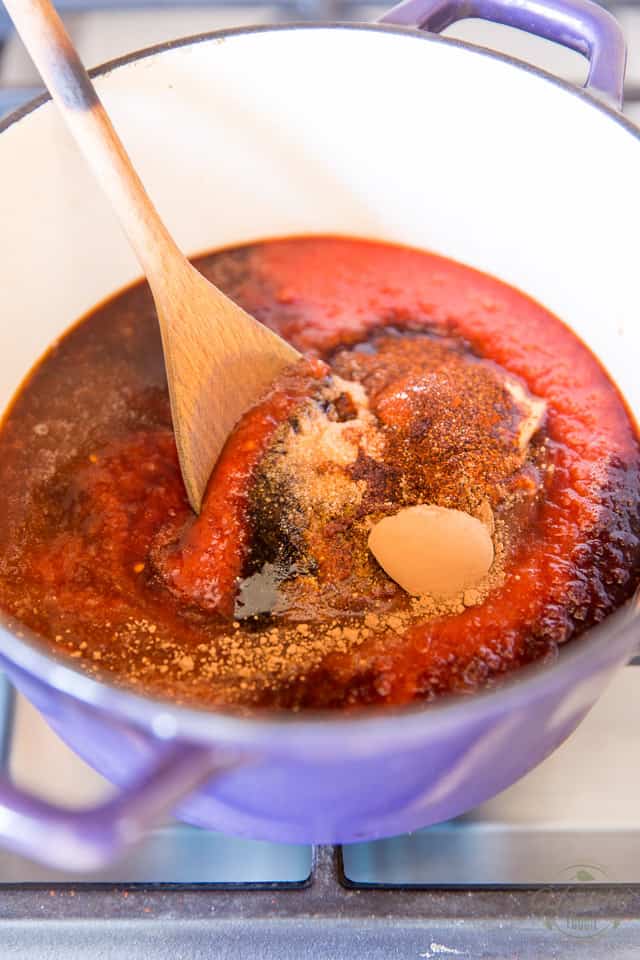 First thing we need to do is make the delicious sweet BBQ Sauce that will be the base of the dish. To do that, combine all the ingredients into a medium, oven-safe saucepan for which you have a fitting lid.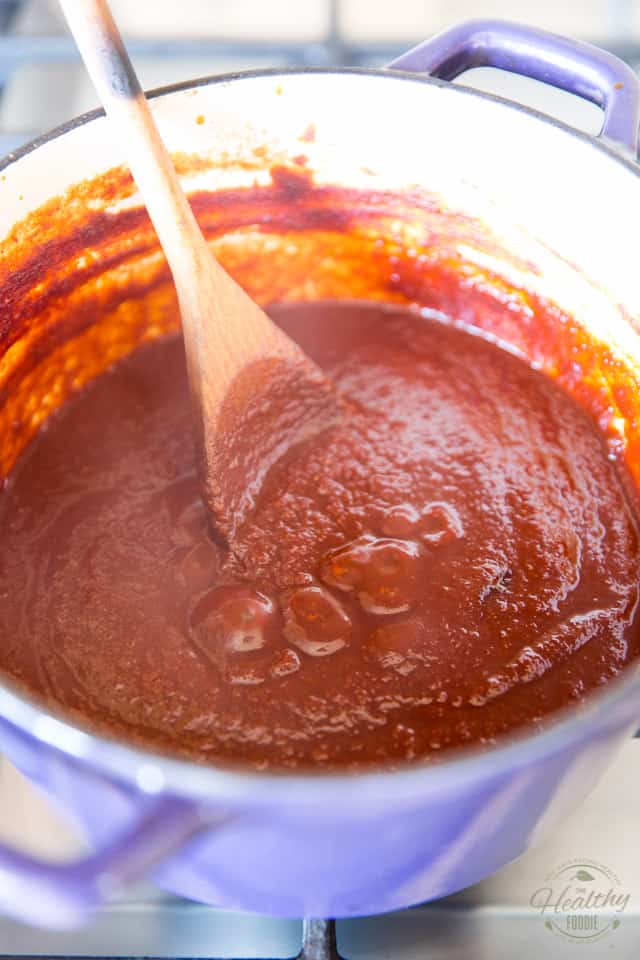 Mix well until fully combined and bring to a boil, then lower the heat and simmer uncovered for about 30 minutes, stirring from time to time, until the sauce has reduced by about half and is much darker in color.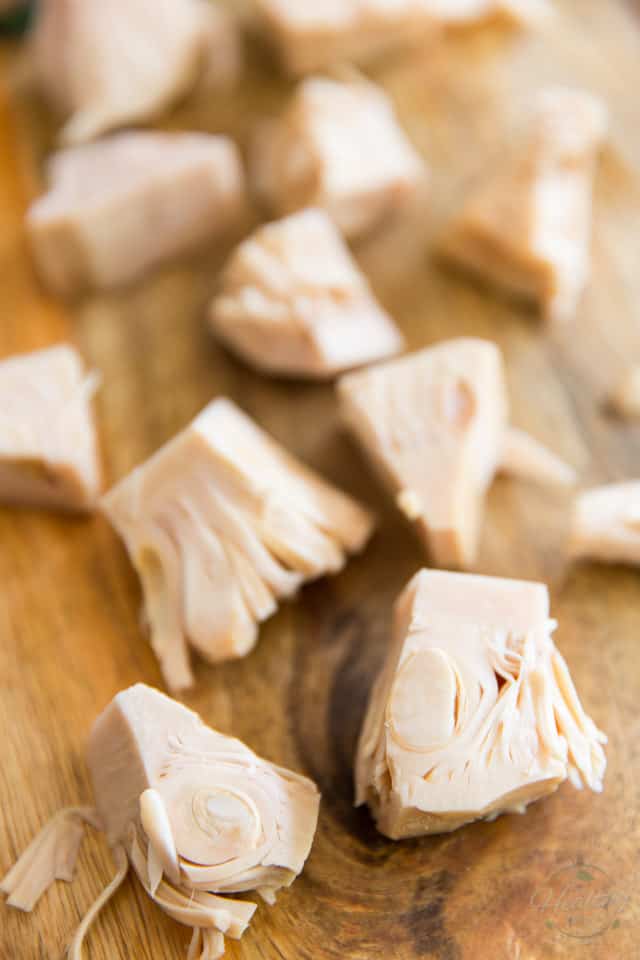 While the sauce is simmering away, you'll want to shred the jackfruit into little pieces with your fingers.
Be careful when purchasing your jackfruit: you must get the young green jackfruit in brine, NOT the sweet, ripe kind in syrup. After draining, this is what the pieces of jackfruit look like right out of the can. Some recipes will have you remove the seeds and trim off the firm ends from each chunk, but that is complete nonsense. Those parts are totally edible and even add the the overall texture of the dish. So by all means, leave them be.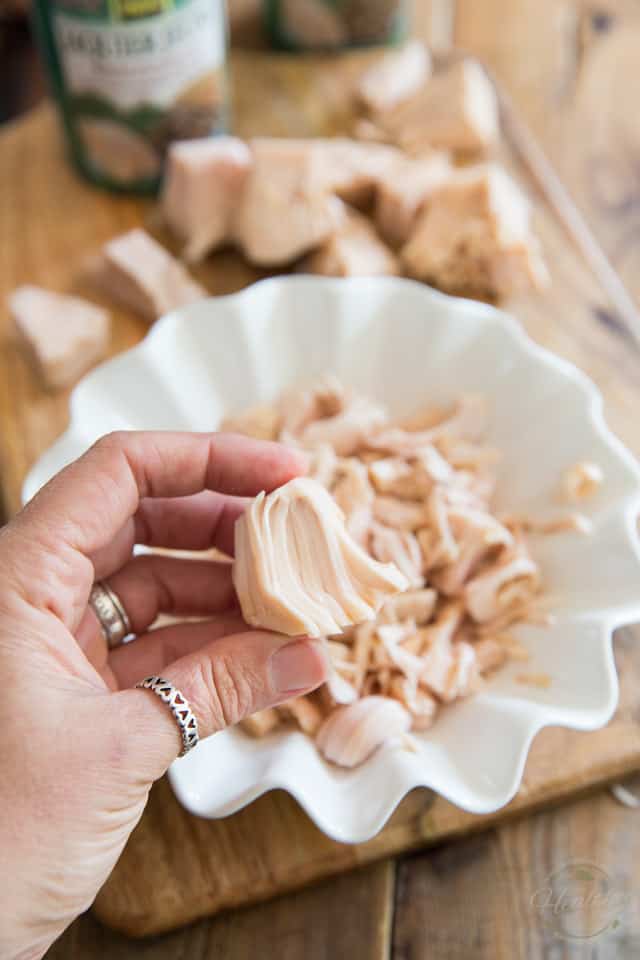 For the most part, jackfruit has a stringy texture that is naturally very similar to pulled meat… Personally, I find that the best way to preserve that stringy texture is by shredding / tearing the jackfruit with my fingers, as opposed to slicing it with a knife.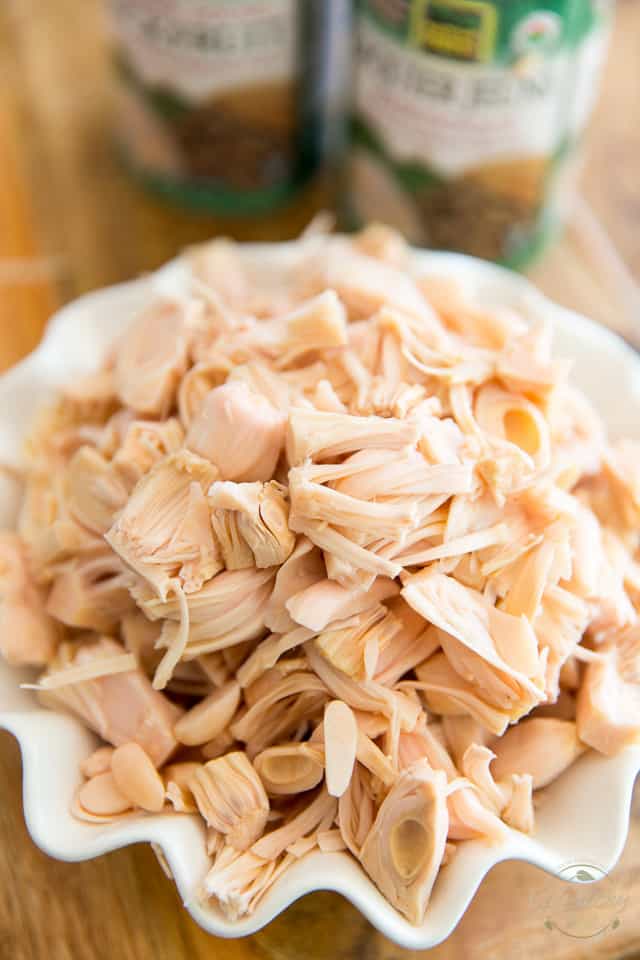 So go ahead and do that… use your fingers to tear all the chunks of jackfruit into smaller, shredded pieces. Yeah, it's somewhat tedious, but very well worth it, trust me. See how it already looks so much like pulled meat?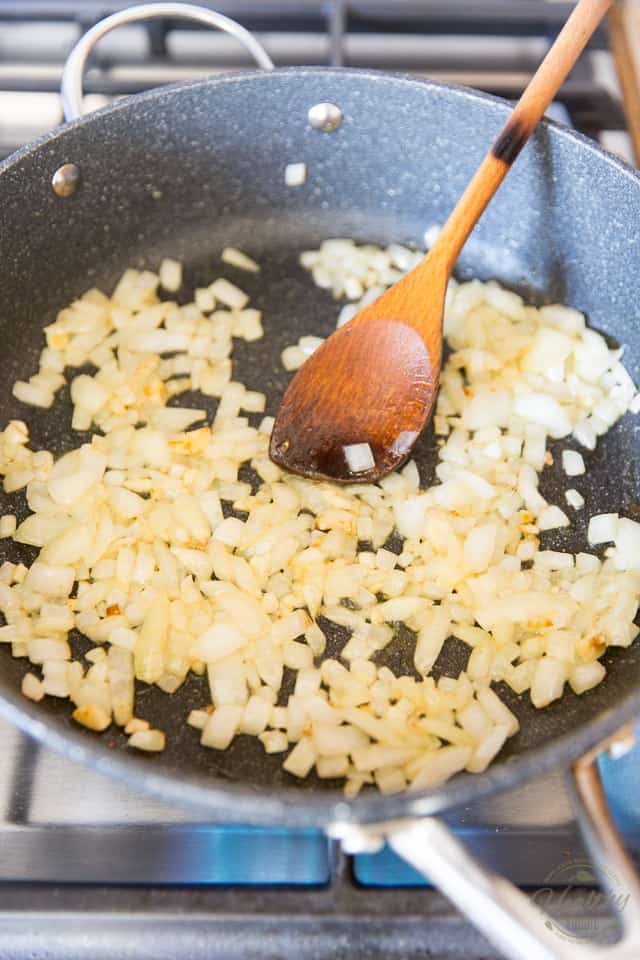 Alright, now that your jackfruit is all prepped and ready to go, I'm ready to bet that your BBQ sauce is pretty much getting there, too… So time to preheat your oven to 325°F.
Heat a few tablespoons of oil in a large saute pan set over medium-high heat. Once hot, add the onions, garlic and salt and cook until softened and slightly browned, about 3 minutes.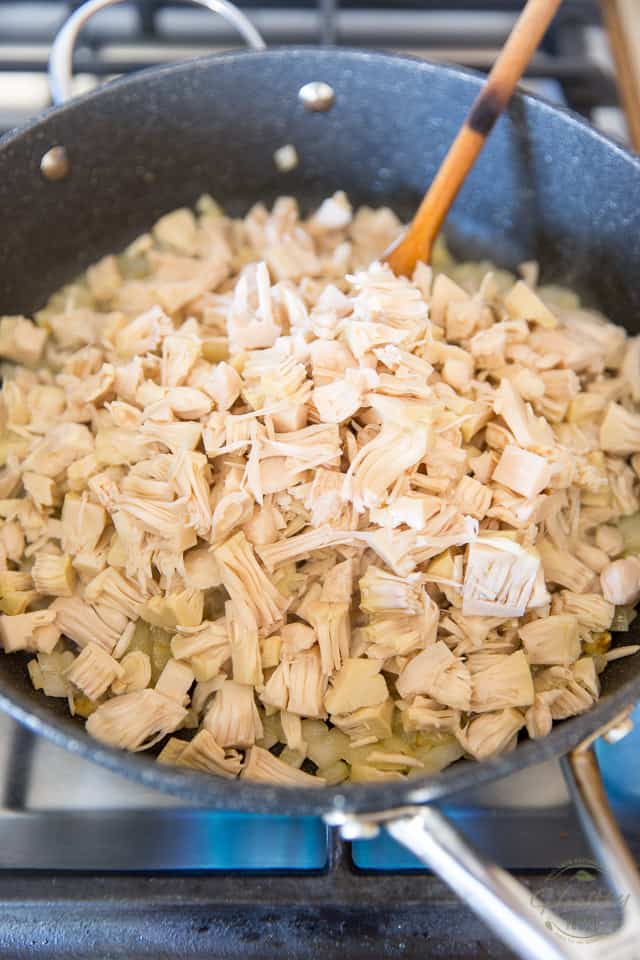 Crank up the heat to high and add that pile of shredded jackfruit to the pan…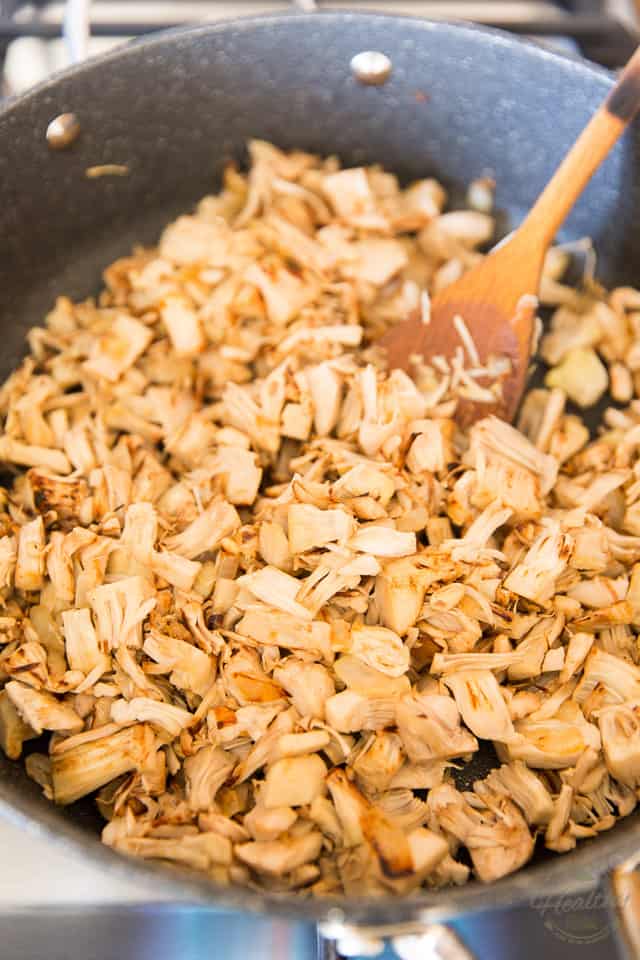 Now cook this jackfruit until it starts to brown and caramelize, about 10 minutes.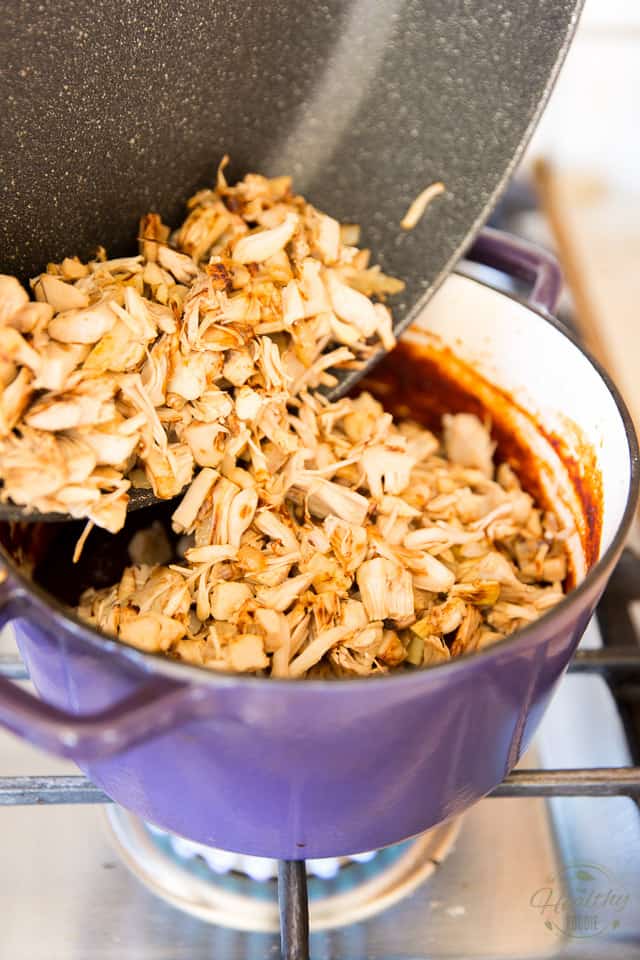 By now, I'm ready to bet that your BBQ Sauce is smelling all kinds of delicious and totally ready to receive all this yummy caramelized jackfruit; so go ahead and dump it right into the pot with the sauce!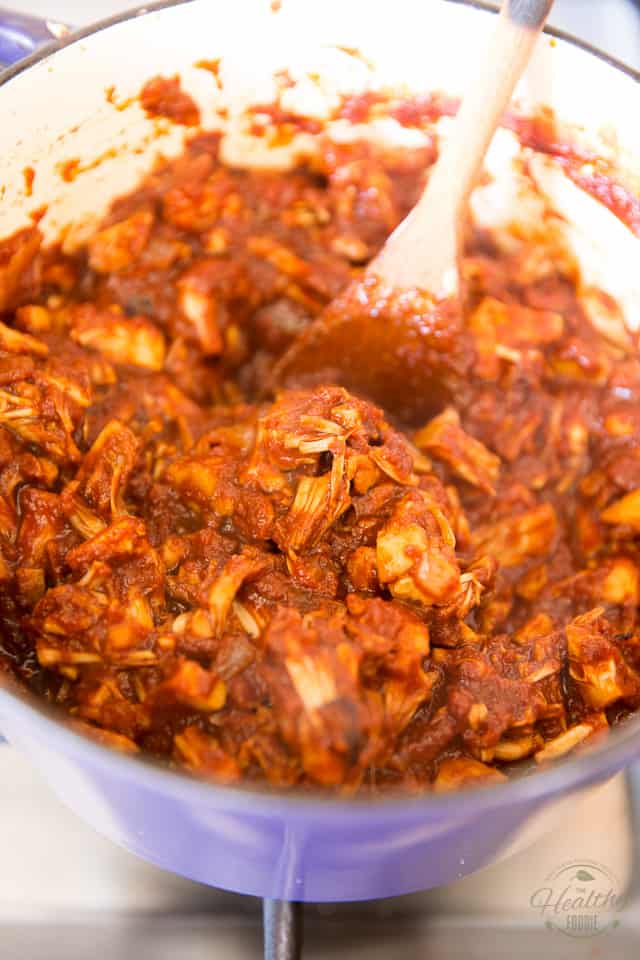 Stir delicately until the jackfruit is evenly and generously coated with the BBQ sauce. Then, put the lid on and place this in the oven for about 45 minutes, so those flavors get a chance to meld and deepen.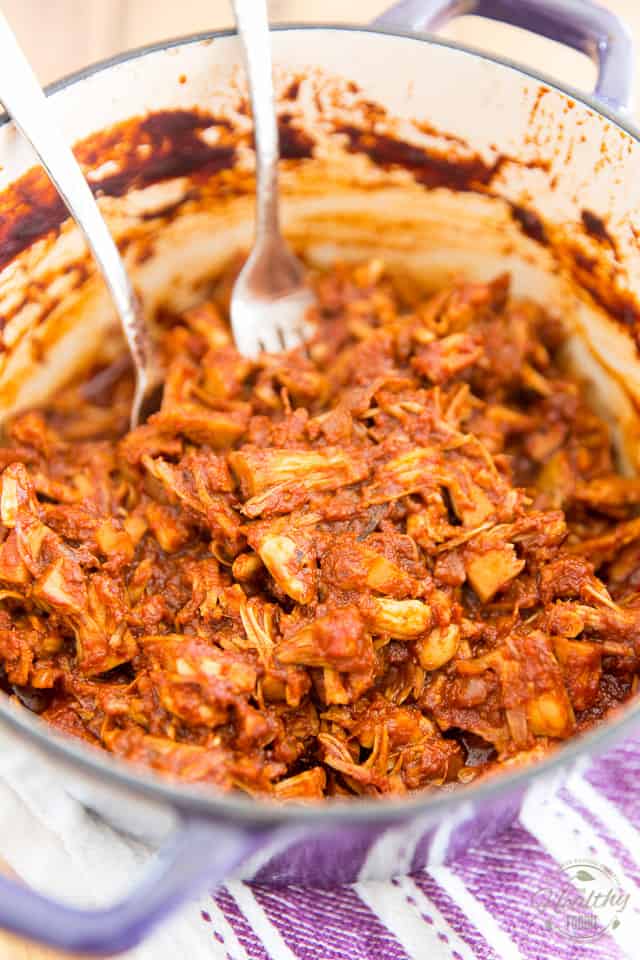 Take the pot out of the oven and allow your Pulled Jackfruit to rest for about 10 minutes before serving.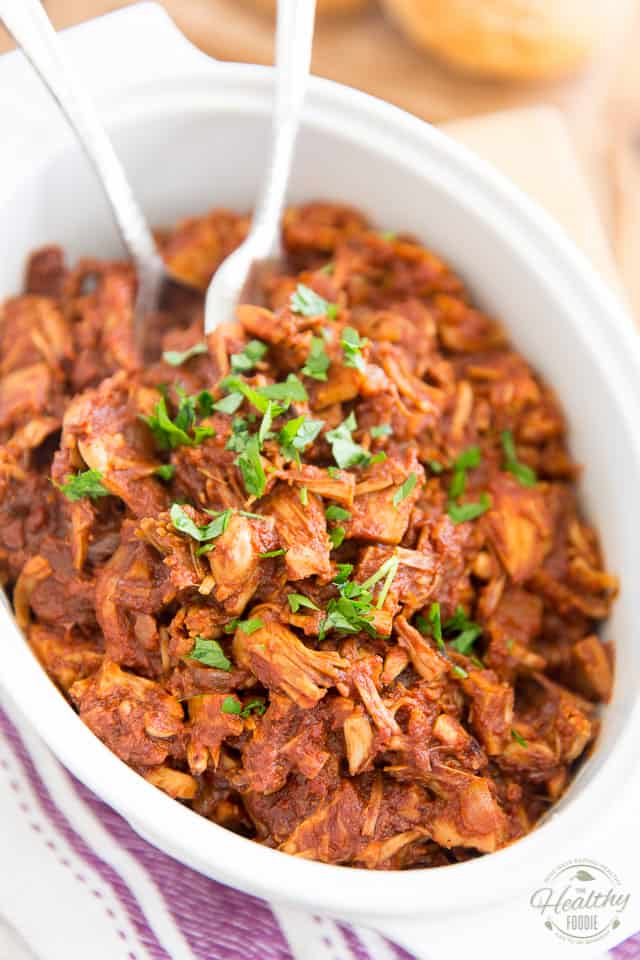 The best way to serve this is piled way high on a toasted hamburger bun, with your favorite toppings — just a few dashes of Frank's for me, please! — or just as is. I'm telling you, this stuff has so much flavor, it doesn't need much of anything else!
Eventual leftovers will reheat super well over low heat, and will keep in the fridge for a couple of days…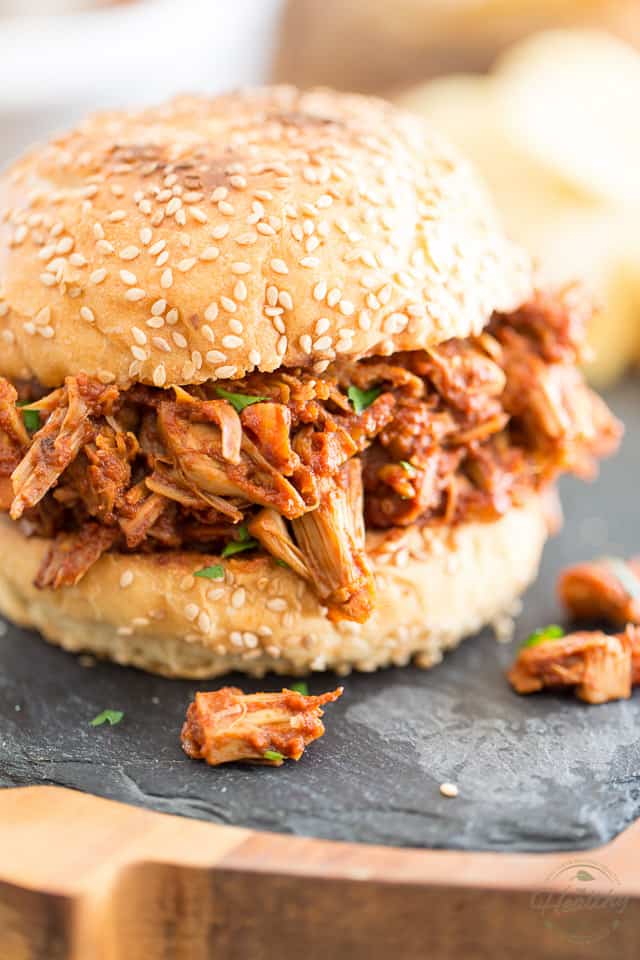 Sweet BBQ Pulled Jackfruit
This Sweet BBQ Pulled Jackfruit is so moist and tasty and crazy similar to the real deal, even the fiercest of meat lovers will be all over it!
Servings: 4
US Customary – Metric
3- 14

oz

cans green jackfruit in brine

,

drained well

2

tbsp

extra-virgin olive oil

1

medium onion

,

chopped

2

cloves

garlic

,

minced

1/4

tsp

salt
For the BBQ Sauce
Place all the ingredients for the BBQ Sauce into a medium, oven-safe saucepan with fitting lid. Mix until fully combined and bring to a boil, then lower the heat and simmer uncovered for about 30 minutes, stirring from time to time, until the sauce reduced by about half and is much darker in color.

Meanwhile, shred the jackfruit into little pieces with your fingers. Do not discard the core or seeds as they are perfectly edible and even add to the overall texture of the mixture.

Once that's done, preheat your oven to 325°F.

Heat a few tablespoons of oil in a large saute pan set over medium-high heat. Once hot, add the onions, garlic and salt and cook until softened and slightly browned, about 3 minutes. Crank up the heat to high, add the shredded jackfruit and cook until it starts to brown and caramelize, about 10 minutes.

Now transfer the caramelized jackfruit to the pot with the BBQ sauce, stir delicately until evenly coated; cover and place in the oven for about 45 minutes, to deepen the flavors.

Take the pot out of the oven and allow your jackfruit to rest for about 10 minutes before using.

Serve piled high on a toasted hamburger bun, with your favorite toppings, or just as is. This stuff has so much flavor, it doesn't need much of anything else!

Eventual leftovers will reheat super well over low heat, and will keep in the fridge for a couple of days…
Calories: 400kcal, Carbohydrates: 81g, Protein: 6g, Fat: 8g, Saturated Fat: 1g, Sodium: 1567mg, Potassium: 1191mg, Fiber: 6g, Sugar: 33g, Vitamin A: 1182IU, Vitamin C: 22mg, Calcium: 182mg, Iron: 4mg
---
Source: Food - thehealthyfoodie.com